MAYOR OF PETALING JAYA
Dato' Mohd Sayuthi bin Bakar, D.P.M.S., S.M.S.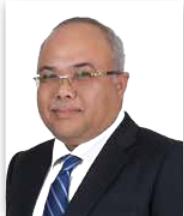 Peace and Allah's mercy and blessings be upon you and greetings
I would like to extend a warm welcome to all visitors to the Petaling Jaya City Council (PJCC) website. In line with the development of information and communication technology which allows people to access information at their fingertips, wherever they may be, the PJCC too utilises the internet as a communication medium to interact with internet users who wish to obtain information concerning Petaling Jaya.
Petaling Jaya residents in particular can find the latest information on our various sports, social, cultural and recreational programmes as well as current campaigns and other activities organised by the PJCC through this website. In addition, visitors can also obtain pertinent information such as the list of PJCC Council Members, the area zones of councillors, corporate information, information on the departments in the PJCC, Local Youth Actuators, development in Petaling Jaya, and new services provided by the council.
Site visitors, especially residents of Petaling Jaya, may use the e-services to make online complaints or check their fines. They will also be able to access the PJCC's GIS and e-tender for which they will be required to register their user IDs beforehand. In addition they also have access to the eLesen and ePAY@MBPJ.
Finally, I hope the visitors enjoy surfing our website and find it informative and useful.
"A LEADING, DYNAMIC AND SUSTAINABLE CITY"
Thank you.
Dato' Mohd Sayuthi bin Bakar, D.P.M.S., S.M.S.
Mayor of Petaling Jaya
MAYOR'S SPEECHES FOR YEAR 2021
PERUTUSAN DATUK BANDAR MESYUARAT MAJLIS BIL.1/2020 BERTARIKH 26 FEBRUARI 2021
MAYOR'S SPEECHES FOR YEAR 2020
PERUTUSAN DATUK BANDAR MESYUARAT MAJLIS BIL.1/2020 BERTARIKH 23 JANUARI 2020
PERUTUSAN DATUK BANDAR MESYUARAT MAJLIS BIL.2/2020 BERTARIKH 26 FEBRUARI 2020
PERUTUSAN DATUK BANDAR MESYUARAT MAJLIS BIL.5/2020 BERTARIKH 29 JUN 2020
PERUTUSAN DATUK BANDAR MESYUARAT MAJLIS BIL.6/2020 BERTARIKH 29 JULAI 2020
PERUTUSAN DATUK BANDAR MESYUARAT MAJLIS BIL.7/2020 BERTARIKH 26 OGOS 2020
PERUTUSAN DATUK BANDAR MESYUARAT MAJLIS BIL.8/2020 BERTARIKH 30 SEPTEMBER 2020
PERUTUSAN DATUK BANDAR MESYUARAT MAJLIS BIL.9/2020 BERTARIKH 30 OKTOBER 2020
PERUTUSAN DATUK BANDAR MESYUARAT MAJLIS BIL.10/2020 BERTARIK 30 NOVEMBER 2020
PERUTUSAN DATUK BANDAR MESYUARAT MAJLIS BIL.11/2020 BERTARIK 18 DISEMBER 2020
MAYOR'S SPEECHES FOR YEAR 2019
PERUTUSAN DATUK BANDAR MESYUARAT MAJLIS BIL.1/2019 BERTARIKH 30 JANUARI 2019
PERUTUSAN DATUK BANDAR MESYUARAT MAJLIS BIL.2/2019 BERTARIKH 27 FEBRUARI 2019
PERUTUSAN DATUK BANDAR MESYUARAT MAJLIS BIL.3/2019 BERTARIKH 28 MAC 2019
PERUTUSAN DATUK BANDAR MESYUARAT MAJLIS BIL.4/2019 BERTARIKH 29 APRIL 2019
PERUTUSAN DATUK BANDAR MESYUARAT MAJLIS BIL.5/2019 BERTARIKH 29 MEI 2019
PERUTUSAN DATUK BANDAR MESYUARAT MAJLIS BIL.6/2019 BERTARIKH 26 JUN 2019
PERUTUSAN DATUK BANDAR MESYUARAT MAJLIS BIL.7/2019 BERTARIKH 26 JULAI 2019
PERUTUSAN DATUK BANDAR MESYUARAT MAJLIS BIL.8/2019 BERTARIKH 26 OGOS 2019
PERUTUSAN DATUK BANDAR MESYUARAT MAJLIS BIL.9/2019 BERTARIKH 25 SEPTEMBER 2019
PERUTUSAN DATUK BANDAR MESYUARAT MAJLIS BIL.10/2019 BERTARIKH 30 OKTOBER 2019
PERUTUSAN DATUK BANDAR MESYUARAT MAJLIS BIL.11/2019 BERTARIKH 27 NOVEMBER 2019
PERUTUSAN DATUK BANDAR MESYUARAT MAJLIS BIL. 12/2019 BERTARIKH 13 DISEMBER 2019
MAYOR'S SPEECHES FOR YEAR 2018
PERUTUSAN DATUK BANDAR MESYUARAT MAJLIS BIL. 4/2018 (PENGGAL 2018/2020) BERTARIKH 25 APRIL 2018
PERUTUSAN DATUK BANDAR MESYUARAT MAJLIS BIL. 5/2018 (PENGGAL 2018/2020) BERTARIKH 28 MEI 2018
PERUTUSAN DATUK BANDAR MESYUARAT MAJLIS BIL. 6/2018 (PENGGAL 2018/2020) BERTARIKH 27 JUN 2018
PERUTUSAN DATUK BANDAR MESYUARAT MAJLIS BIL. 7/2018 (PENGGAL 2018/2020) BERTARIKH 31 JULAI 2018
PERUTUSAN DATUK BANDAR MESYUARAT MAJLIS BIL. 8/2018 (PENGGAL 2018/2020) BERTARIKH 21 OGOS 2018
PERUTUSAN DATUK BANDAR MESYUARAT MAJLIS BIL. 9/2018 (PENGGAL 2018/2020) BERTARIKH 25 SEPTEMBER 2018
PERUTUSAN DATUK BANDAR MESYUARAT MAJLIS BIL. 10/2018 (PENGGAL 2018/2020) BERTARIKH 30 OKTOBER 2018
PERUTUSAN DATUK BANDAR MESYUARAT MAJLIS BIL. 11/2018 (PENGGAL 2018/2020) BERTARIKH 28 NOVEMBER 2018
PERUTUSAN DATUK BANDAR MESYUARAT MAJLIS BIL. 12/2018 (PENGGAL 2018/2020) BERTARIKH 21 DISEMBER 2018