For registration as a member of Rakan Muda, please click on the link below:-
Terms of Participation
Malaysian Citizen.
Schooling, living and working in Petaling Jaya.
1 photo with an identification card measurement  for membership card
Payment is FREE.
Rakan Muda Code of Practice
Organizers who use the Rakan Muda logo are responsible for preserving the pure spirit and goal of the program.
Priority is given to youths who register themselves under the Rakan Muda lifestyle.
Organize programs with positive attitude-shaping components, values which are noble, religious, nourishing a culture of knowledge and mould good moral values.
Organize programs which do not include high costs.
Supervise social limitations amongst male and female participants as well as avoiding indecent actions.
Ensuring organized programs do not threaten national unity and safety.
Priority is given to the safety and welfare of the program's participants.
Ensuring each program organized reach the Rakan Muda program goals.
Organizers practice fairness and equality amongst all participants without limitations on religion, race and economy.
Provide the best service to participants at all time.
Any questions can be referred to:
Bahagian Pembangunan Sosial, Kebudayaan, Kesenian dan Perlancongan
Jabatan Kemasyarakatan, Belia & Sukan
Tingkat 7, Menara MBPJ, Jalan Tengah,
46200 Petaling Jaya
Tel: 03-79560203, 03-79560206
Fax: 03-79569549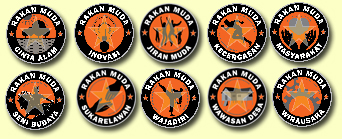 Objective
Assist in lessening social cases especially amongst PJ teenagers.
Encourage youths to participate in healthy activities in filling their free time.
Produce the highest potential in the younger generation.
Compliance to the principle of the national ideology.
Shaping a positive attitude, values that are noble, religious, nourishing the culture of knowledge and good moral values in the program carried out.
Or download the form to become a member of Rakan Muda (PDF format).